Monitoring Sites - Scott Farm
Introduction | Contacts | Purpose | Site Description | Measurements | DEM | Pictures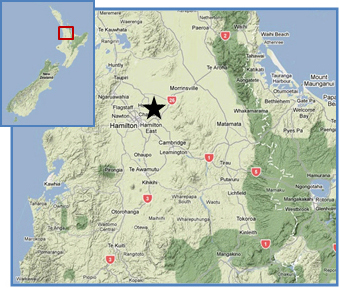 The Scott Farm flux station is located on a Dairy NZ

research farm 7km northeast of Hamilton the Waikato region on the North Island of New Zealand.
It was established in December 2007 and is managed by the Department of Earth and Ocean Sciences

at the University of Waikato

.
Since 2010, the Scott Farm flux station is supported by the New Zealand Agricultural Greenhouse Gas Research Centre (NZAGRC)

.
Assoc. Prof. Dave Campbell or
Prof. Louis Schipper
University of Waikato
Department of Earth and Ocean Sciences
Private Bag 3105
Hamilton 3240
New Zealand
Fax : +64 7 856 0115